Road trip to Nandi hills
Yet another Road Trip………………….But now this time its a less adventurous as  compared to last time when we went to Mathura and Vrindavan.  It was all of a sudden that my bro Adi came to Bangalore. He came for 2 days. Nothing came in mind other than to Explore Bangalore. But i had some other plans. I did't tell him about the plan. I wake him up in the early morning at 3 am and told him just pack your bag , we are going on a Bike to Nandi hills.
He was like WTF……………..But when i told him that it is around 130 kms ride to and fro he was very happy and immediately got ready to go. We pack our bags and left our House around 4.30 am. It was a Chilled Morning and as we are going it was like something is constantly hitting us. Wind was blowing at a great speed. Our target was to reach around 6.30 – 7 am. It was 60 Kms journey. The road was clear with very less traffic only Heavy weight vehicles can be seen . He was driving very cautiously . First of all we search for any petrol pump to fill our Bike tank, so that we can have an uninterrupted journey. Finally after searching for 30 mins we find one . Now our journey starts.
The road to the hill was easily approachable. Its on the way to Airport only. But at one place u will find the road divided into 2 , one side will go to Airport and the other way to Nandi hill , so guys please don't be confused.
We stop after 30 kms for refreshment. It was the amazing morning but still it was dark very little light was there . We thought that it will rain and drizzling started. Omg we have raincoat with us so we manage . I cannot explain the feeling , no words that how i was feeling when we started approaching the way to hill.  Now it is 6 am, still the sky was not clear.
!st Check post came , it was really crowded because the door still not opened. It opened around 6.30 to 6.45 am. We are not the 1st one in the Queue.  One think i would like to Highlight Bangaloreans have great passion for Biking. They will be fully dressed as a Biker unlike any of us. Finally gate opens and we went broom broom……………….
Honestly it was an amazing feeling as we were moving. Finally we reached…………………..
I also went for first time. We were like ………………… Such a beautiful place beside a Populous City. It was really amazing. But it was very dirty near Ticket counter. Huge Parking space is there. It was really a Virgin Place , untouched by humans and technology.
Now it was 7.30 am and we were very hungry. There is a small restaurant kind of thing being run by Govt, where u will get Famous South Indian Cuisines……….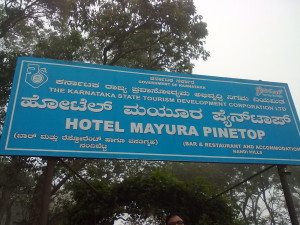 There is nothing much in a place , so i am not going in details. Its only about the Bike Ride.
Journey was awesum……………Have fun